We've written this privacy policy to tell you what we will and will not do with your information. It covers two different things: The DevResults application, which is the cloud-based software we offer, and which is only available to paying customers; and the DevResults public website, which is what you're viewing now, and is available to the general public.
Note: This is not copy-and-pasted legal boilerplate. We gave it a lot of thought, and wrote it ourselves in plain English. We hope you'll read the whole thing!
Information collected through the DevResults application
Your organization's information
The purpose of DevResults is for you to store information about your organization's work. We understand that some or all of this information may be sensitive or confidential. We have implemented a comprehensive security framework so that only registered users and our authorized staff can see your DevResults site. Our staff will only access your site's information in order to help you successfully use the software. In rare cases we may need to give access to our databases to technical staff from our vendors for troubleshooting, maintenance, or support. These companies, likewise, are only authorized to use this information as necessary to provide these services to us.
Data ownership
While we own and retain all rights in the code to the DevResults application, the information you store in DevResults belongs to your organization. If your organization asks for it, at any time and for any reason we will export it in full and give it to them (as long all subscription fees have been paid).
Aggregate customer data
We may run queries across all customer data to produce impressive-sounding aggregate numbers for self-promotion. For example, we might say "X people in Y countries around the world are using DevResults to manage $Z worth of development programs." This information will never be presented in a way that can be traced to specific individuals, projects, or organizations.
Your personal information
When your organization creates a DevResults account for you, your user profile includes information such as your full name, phone number, company or organization name, and email address. If your personal information changes, you can modify your account information at any time. If you need to delete your account, you must notify your system administrator, who will delete your account for you.
Retention
DevResults will retain your organization's information for as long as your account is active, or as needed to provide you services.
Cookies
The DevResults application uses cookies
to confirm that you're an authorized user while you're using the site;
to remember you when you return to the site, so you don't need to sign in every time; and
to remember your preferences and settings.
These cookies are not shared with other websites. Your browser must accept cookies in order for you to use the DevResults application.
We also use some technologies made by other companies that store their own cookies in your browser. We do not disclose any information about you to these companies.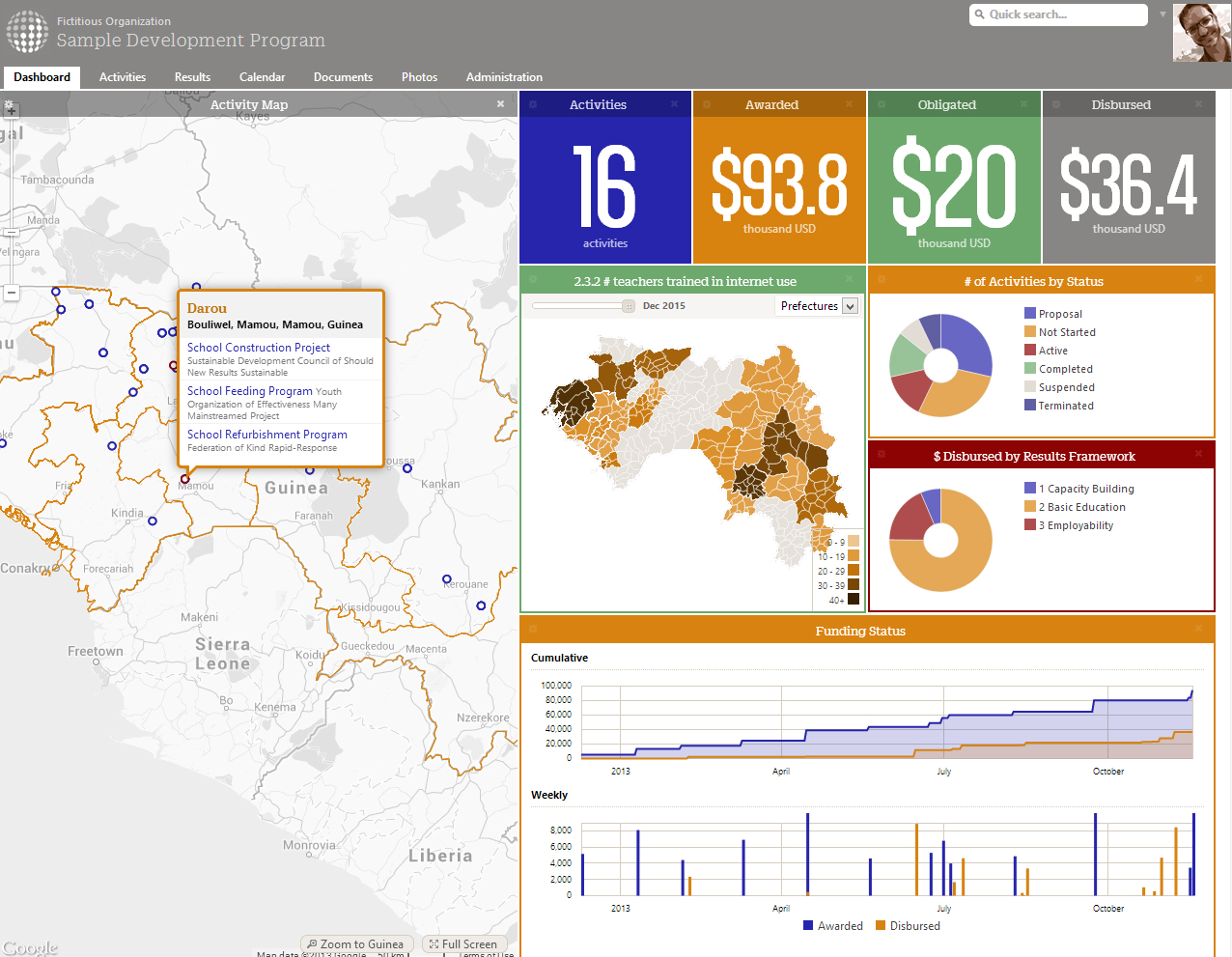 | Partner | Cookie name | Purpose | Privacy |
| --- | --- | --- | --- |
| CloudFlare | __cfduid | We use CloudFlare to make DevResults faster for users, and to protect our servers from certain types of attacks. This cookie identifies trusted users in order to override blacklists based on IP address. | Cloudflare Privacy & Security Policy |
| Google Analytics | _ga… | We use this service to analyze traffic on the DevResults application, in order to better understand how the software is being used. This cookie distinguishes users in order to avoid double-counting. | Google Analytics Cookie Usage |
| Heap Analytics | _hp2… | We use this service to analyze traffic on the public DevResults website. This cookie distinguishes visitors to our site in order to avoid double-counting. | Heap Analytics Privacy Policy |
| Microsoft Azure | ARRAffinity | Depending on demand, we may host your DevResults site on multiple servers behind a load balancer. This cookie ensures that you will stay with the same server as you navigate the application. | Microsoft Online Services Privacy Statement |
Analytics and logs
Our application servers log every request, and store these logs in files that are available to us for analysis. We also use analytics technologies that run in the browser to record usage.
We use this data in aggregate to
analyze trends
monitor security threats
administer the site
understand typical usage patterns on the site; and
gather technical information about our user base (for example, what versions of which browsers are in use).
Information security
We pride ourselves in a robust information security program that guards the safety and privacy of our clients' data. DevResults implements industry best practices to protect your information from loss, destruction, misuse, unauthorized access or disclosure. Please see our security statement for more information.
---
Information collected through the DevResults public website
Demo sign-up
When you sign up for access to the demo website using the form at www.devresults.com/demo, we require your name and email address, along with the name of your program and organization. You may also optionally provide a note about what you're doing and what you need.
We don't share this information. We use it to better understand who is interested in DevResults. We may also use your email address to politely follow up with you. We will not use this information to send you bulk marketing email.
Information you enter in the demo
If you use the demo site, please do not enter any sensitive or private information. Anything you upload or type into the demo site is visible to the public, until the next time the demo is reset with randomly-generated data.
Newsletters
On occasion we may send out informational email newsletters — updates on new functionality, tips for using the software, etc. If you wish to opt out of these newsletters, please follow the unsubscribe directions included in these emails.
Cookies
The DevResults public website does not use any first-party cookies; it uses third-party cookies as described above.
Analytics and logs
Our public website servers log every request, and store these logs in files that are available to us for analysis. We also use analytics technologies in the browser to record traffic and usage. We use this data in aggregate to analyze trends in global interest in DevResults.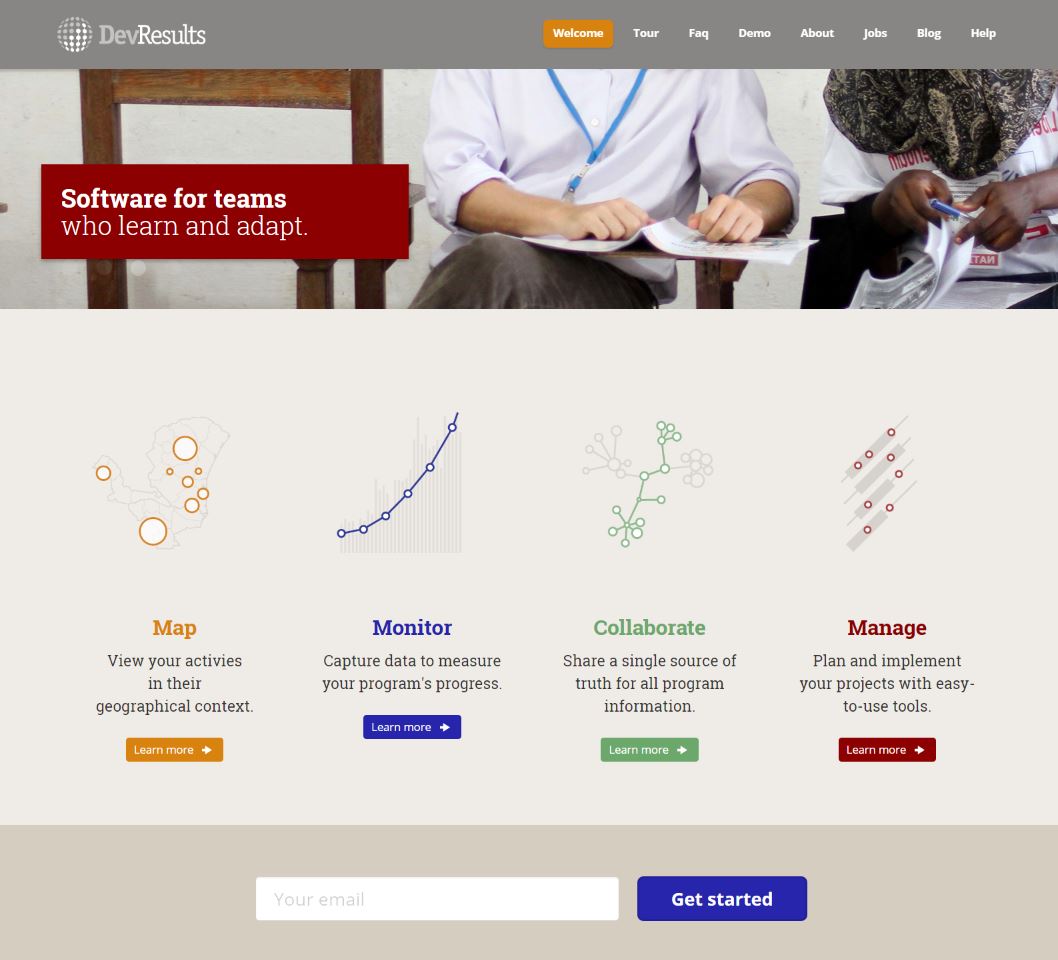 ---
A word from our lawyers
This statement is provided for informational purposes only. It is not a contract. It does not impose any additional obligations on us. We may update this statement from time to time. You can always find the current version at www.devresults.com/privacy.
DevResults is not directed to children under 13 years of age. Neither DevResults nor (to the best of our knowledge) DevResults users are collecting personal information online from a child under 13 years of age without complying with the U. S. Children's Online Privacy Protection Rule.
Our site includes links to other websites. We don't control other websites' privacy practices. If you submit personal information to any of those sites, your information is governed by their privacy policies.
Your continued use of DevResults constitutes your agreement to be bound by such changes to the privacy policy. If you do not accept the terms of this statement, your only remedy is to stop using DevResults. If we make any changes that we determine are material, we will notify our customers in advance by email, or by means of a notice on the site.
We may be obligated by law to disclose information on our servers: For example, to respond to subpoenas, court orders, or legal process; or to investigate or prevent illegal activity. We may also disclose this information in order to establish or exercise our legal rights or defend against legal claims.
By using this site, you agree that any related legal action is governed by Maryland State law and you consent to the jurisdiction of the United States District Court for Maryland.
---
If you have questions regarding this privacy policy or about our security practices, please contact us by email at security@devresults.com.
Last updated: October 12, 2016